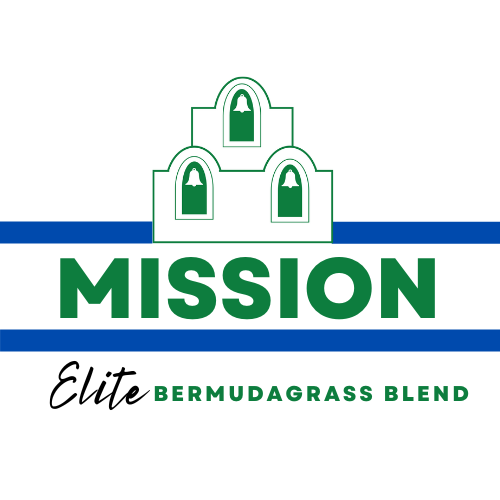 MISSION BERMUDAGRASS
---
Short Description: Mission Bermudagrass is a sod forming bermudagrass with a deep green color and fine turf density. It has great cold tolerance, drought tolerance and can withstand periods of intermittent high traffic. An improved bermudagrass blend of high-quality turf type varieties selected for, excellent drought tolerance, with improved winter survival creating early spring green-up. The deep green, dense fine textured leaves are the perfect option for residential lawns, sports fields and commercial properties. MISSION TURF TYPE BERMUDAGRASS Superior Seedling Vigor for Quick Establishment Deep Green Color Fine Turf Density Uniform Texture Widely Adapted Good Salt Tolerance High Foot Traffic Tolerance Drought Tolerant Plant into a well-prepared seedbed at 2 pounds of seed per 1,000 square feet at a depth of ¼ inch. Optimum planting time is Spring when the soil temperature is 65° or higher, or in the Fall as temperatures start to cool down. Best adapted to full sun areas, but will persist areas of no less than 7-8 hours of sunlight per day.

All payments are final and no refunds will be processed.
All orders are processed within 2-3 business days.
View Our Terms and Conditions
Description
WATER REQUIREMENTS: Seed bed should be watered deep and kept moist until emergence. For one to two weeks after planting through emergence, it is best to water the newly planted area 1 to 2 times a day, keeping the top layer of soil moist. Once the seed has emerged, watering may be reduced to once a day or every other day. Keeping the seed bed moist at the beginning will help assure good establishment and is most important in periods of high temperatures.

MOWING HEIGHT: Maintain Mission Bermudagrass at height of 1 to 2 inches tall. As with most bermudagrasses during the establishment period, the more you mow, the more the stolons will run and the thicker your sod will become. After establishment, the higher you mow, the deeper the roots will grow, helping increase plant health and stress tolerance.

PLANTING SPECIFICATIONS: Sow bermudagrass seed 1/4 inch deep, using two pounds of seed per 1,000 square feet. Bermudagrass seed can germinate quickly, usually in 5-14 days, depending on the time of year and growing conditions. Under the good conditions, it can become fully established in 60 to 90 days. Seed germination may be delayed when the soil temperature is below 65°F or above 90°F.

FERTILIZER: Bermudagrass responds well to all type of fertilizer. After establishment it is recommended to apply fertilizer two to three times during the growing season at the rate of 1-1.5 pounds of actual Nitrogen per 1,000 square feet. Avoid over applying fertilizer on a newly established lawn in the first 2-3 months, to reduce the risk of stunting the young plants.